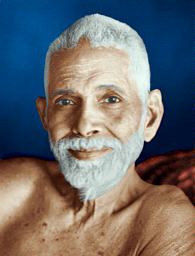 Bhagavan Sri Ramana Maharshi, known as The Sage of Arunachala, is widely recognised as perhaps the most unique spiritual personality of the 20th Century. His life was a perfect example of simplicity, purity, equality and equanimity, born from an unalterable experience of supreme peace and oneness. He was a rare, pure channel of Divine Grace, that purposely made itself available to all living beings twenty-four hours a day.
His highest teaching of 'Self-enquiry' was understood in the infinite silence of his presence. Through this silence, countless numbers of devotees and visitors experienced the pure bliss of True Being. That same experience of perfect peace is still available to sincere souls who turn to him and practice his teachings with devotion. This act of perfect grace can be experienced anywhere, but it is especially palpable at his Ashrama in South India at the foot of the holy Arunachala Hill, a hill that has attracted saints and sages for thousands of years.
The Maharshi's teaching of 'Self-enquiry' ( Pure Advaita ) is simplicity itself, requiring no outward formalities, no outer change of life, only a simple change in 'point of view' and a sustained effort on the part of the seeker. The goal is no heaven after death or a faraway ideal, but rather the removal of the ignorance that prevents us from knowing that we are eternally one with our Source, the Supreme Self, or God. It is an experience than can be had NOW! All that is required is a sincere effort, which earns us the necessary grace.
On his deathbed the Maharshi told his grieving devotees, "You say I am going away, but where can I go? I am always here. You give too much importance to the body." His promise of a 'continued presence' is daily being experienced by numerous admirers and devotees from around the world, and it is that experience of 'continued presence' that has inspired many to devote themselves to the path of peace and love.
Devotees are not required to give up their current faith in God ( however perceived ) and practices of devotion or worship, in fact they are encouraged to continue in them as long as benefit is perceived. Self-enquiry does not require the seeker to leave home, job, family or anything else. Progress depends only upon effort and nothing else and help in Sadhana (Spiritual effort) is always available.
Venkataraman, later known as Bhagavan Shri Ramana Maharshi, was born on the auspicious day of Arudra Darshan, 30th December 1879. He grew up like any normal boy. His father died when he was twelve. Together with his two brothers he went to live in the family of an uncle of his father's, not far from Madura, South India. Venkataraman was sent first to Scott's Middle School and later to the American Mission High School. There he read the Bible. He was not really interested in going to school. His amazingly retentive memory covered up his laziness: he was able to repeat a lessons from hearing it once read out.
There was one unusual thing about him, though, and that was his abnormally deep sleep. Whatever one did to wake him up, he knew nothing about it till they told him when he was awake again.
One day, when he was about 17 years old, he attained enlightenment through a remarkable experience. He was sitting alone in a room on the first floor of his uncle's house, when quite sudden a violent fear of death overtook him and drove his mind inward. He started dramatizing the occurrence of death, up to and including rigor mortis, but remained in full consciousness. He found out for himself that he was Spirit transcending the body, that " I " is one with the deathless Spirit, the Self of every human being. He said that absorption in the Self continued unbroken from that time on.
He renounced everything, left his uncle's home and started the wandering life of a sadhu. For him that meant Tiruvannamalai, where he lived for quite some time and practised severe Tapas in an underground vault in the thousand-pillared hall, and the sacred hill of Arunachala, one of the oldest and most sacred of all holy places in India, where he stayed for the remainder of his earthly life. He declared that Arunachala was the spiritual centre of the world.
In the ashram, which was formed around him, he taught non-duality, the purest form of Advaita Vedanta, which tells us that to see the Self one must be the Self. According to Ramana Maharshi, the best and only means to obtain Self-knowledge is the enquiry Who am I?.
He went into mahasamadhi on 14th April 1950.
The Ramanasramam gives us a feeling of being in a hermitage due to its surroundings, flowering trees and peaceful and pristine pure atmosphere.

Books on Ramana Maharshilife and experiences, are available both in English and Tamil in the ashramam bookshop. Other spiritual books are also available.
Daily Routine At Sri Ramanasramam
6:45 a.m. Milk offering to Sri Bhagavan in Samadhi Hall
7:00 a.m. Breakfast
8:00 a.m. to 8:30 a.m. Chanting of the Vedas in front of Sri Bhagavan's Shrine
8:30 a.m. to 9:15 a.m. Puja at the Shrine of Sri Bhagavan followed by Puja at the Shrine of Mother
11:30 a.m. Lunch (South Indian diet)
4:00 p.m. to 4:30 p.m. Tea or hot milk served in the dining hall
5:00 p.m. to 5:30 p.m. Chanting of the Vedas in front of Sri Bhagavan's Shrine
5:30 p.m. to 6:15 p.m. Puja at the Shine of Sri Bhagavan, followed by Puja at the Shrine of Mother
6:45 p.m. to 7:30 p.m. Tamil Parayana on Monday, Thursday and Saturday
7:30 p.m. Dinner
Sri Chakra Puja Performed between 5 p.m. and 8:45 p.m. every Friday, full moon day, and the first day of each Tamil month